We are family of five from Estonia, who raises three little girls, who we call a Little Raisin, Nora and Leenu. You can only imagine what life looks like next to one, three and five year old girls. Playing has a big role in our lives and we consider it important to take that time every day to actively engage with our children. At home with all three, there are days where you feel you can't do your own stuff. Of course it is possible, but we have a rule that we can take our own time while our kids are asleep. At first you might think that kids with a small age range constantly play together, but there are days this isn't working at all. For example children ages one and five do not have much in common with each other and the older one wants to do things that are suitable for her age. This may be a board game or other activities that also requires the presence of a parent.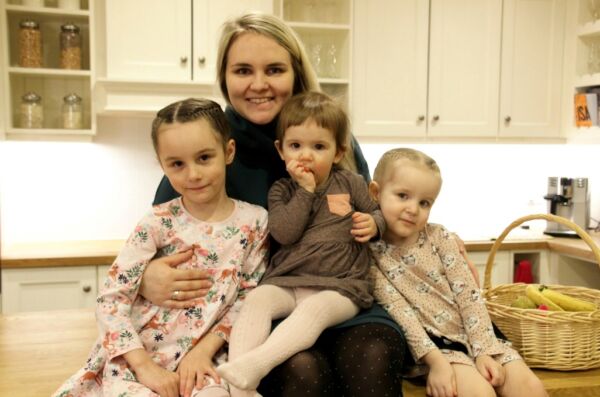 There are hectic times in the world right now and it also affects our lives. Our children kindergartens are closed and office people have moved to their home offices. Our family also tries not to visit public places and since play rooms and gatherings is forbidden, we try to entertain ourselves at home. These living arrangements are quite challenge to us. Kids are used to living a varied life with weekly hobbies, playing with friends in kindergartens, going out to family dining or visiting play areas. Now we have to find engaging activities that will keep kids busy for a while, when we have to work.
There are two playrooms in our home because the bigger kids are living in one room and the smaller one is still with us. That's why we use two other rooms for playing. But obviously the same toys do not provide the same tension day after day. We decided to purchase several board games and while I was choosing games from online stores I discovered one of the tremendously good product, which was Gerardo's Toys Jolly Rolly coloring paper.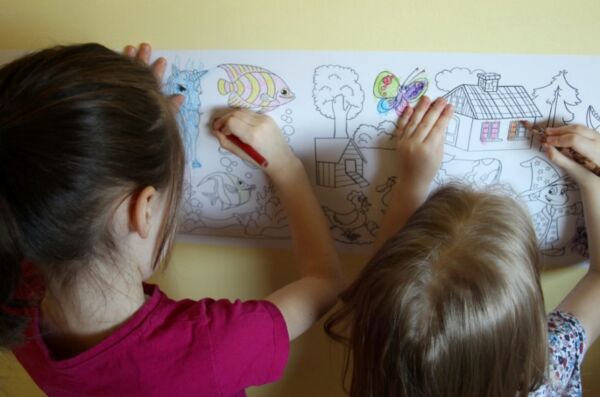 At first I thought that I could just take a paper and a pencil or buy a color book. Then I read that this product can be put on the wall. Let's be honest, I thought for a moment that it's not a good idea at all, because no one wants to damage their walls at home. Guess what? I was really wrong! We decided to give the Jolly Rolly a try and it was so exciting for the kids and my fears were unfounded! The coloring roll is made of strong paper and water-based glue, which is sticky, but does not leave any marks! You can stick it on the wall, on the table or on the floor. It is convenient for children to draw on it because the paper does not shift. I also discovered that girls have the opportunity to cut out pictures and decorate their playroom walls with painted characters.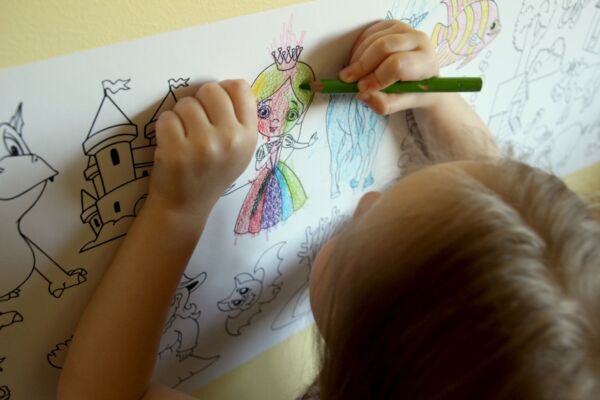 By the way this is one of the activities where children have a common goal to get the picture painted!
Gerardo's Toys Jolly Rolly has two different themes you can choose from. One is Adventure, which is about mysterious island, where you can meet dinosaurs, dragons and pirates! And the other, which is our girls favourite, is about Fantasy. There are fishes, princesses, unicorn and cute farm animals! It is actually really fun way to teach new words to our Little Raisin as well!
You know, this is the moment where you voluntarily stick something on your home wall and leave the kids alone with their pens. Actually I was really happy because it worked. Children were alone for a long time and painted with a great care. I really like the fact that Jolly Rolly can be used for quite some time because the paper size is 30cmx400cm.
In conclusion, our family recommends Jolly Rolly coloring paper for indoor activities!
Be healthy and stay at home!